Our Services
---
We tailor appropriate strategies based on your specific situation and established goals. We bring clarity to your bigger picture and create a path toward your desired outcomes. We do this through concepts including: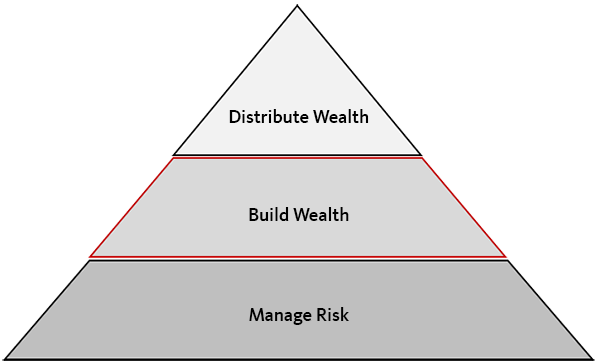 Manage Risk
Life Insurance, Health Insurance, Disability Insurance, Long-Term Care Insurance, and other protection components are available to help you de-risk your financial path and life context. We help you identify gaps in your risk management, outlining simple steps to protect yourself and those you care about.
Build Wealth
Investment Selection, Management and Account Aggregation
We help you cut through the financial jargon and create value, helping you understand what you have, how it works, and adapt your desired level of involvement with day-to-day investment decisions. Facing a sea of solutions we aid your navigation to simplify the decision making process. As appropriate, we can align you with professional money management. Tools at our disposal allow you to see all your accounts in one place, and bring order to the often confusing and complex world of investments.
Retirement Preparations, Retirement Income, Social Security and Medicare Planning
The financial savings tools that prepare us for retirement, including but not limited to Traditional IRAs, Roth IRAs, Annuities, Medicare Plans and Supplements, Life Insurance, Social Security Optimization, Health Savings Accounts, Pension Planning and 401(k)/403(b) and other employer sponsored plans represent a complex web of decisions as you prepare for and move into retirement. Any one decision most likely impacts all other decisions. We help you understand how it all works together and keep your plan in focus, one step at a time.
Distribute Wealth
Eldercare
Caring for the aging brings the challenge of difficult decisions and emotional, often time-consuming tasks. Eldercare planning may include establishing Trusts, Powers of Attorney and Long-Term Care Insurance. Adequate preparations and proper tool utilization can reduce uncertainty, improve flexibility and help you understand and deploy available resources during difficult times.
Leaving a Legacy and Estate Conservation
Understanding the workings of Wills, Trusts, Beneficiary Designations, Taxation and other end-of-life planning tools, we work on your behalf to benefit those you care about. We connect you with needed resources to prepare you and give you peace of mind, knowing that your intentions aren't left to chance and outside interpretation.
---
Fixed Annuities are long term insurance contacts and there is a surrender charge imposed generally during the first 5 to 7 years that you own the annuity contract. Withdrawals prior to age 59-1/2 may result in a 10% IRS tax penalty, in addition to any ordinary income tax. Any guarantees of the annuity are backed by the financial strength of the underlying insurance company.

WMBURT ADVISORS™ WEALTH MANAGEMENT LLC does not offer legal or tax advice. Please consult the appropriate professional regarding your individual circumstance.